Page last updated Sunday 12th February 2023

---
ONLINE COUNTY CHAMPIONSHIPS 2020

Home page for the ECF County Championships site is
here
.
---
NCCU Under 1850 - Greater Manchester v Cumbria
Hello everyone,
I'd just like to thank you all for competing for Cumbria in this season's county matches.
We lost to Greater Manchester yesterday when many of the results seemed to go against the run of play. We did, however, manage two wins by Jonathan Rashleigh and Tim Lounds of Kendal CC and draws from Alan Llewellyn (Barrow), Neil Foxcroft (Ulverston) and Greg Millar (Maryport) who was undefeated in all three matches.

Below is an image of yesterday's match score sheet.
Thanks again and I look forward to seeing you all again next season.
...............Andy.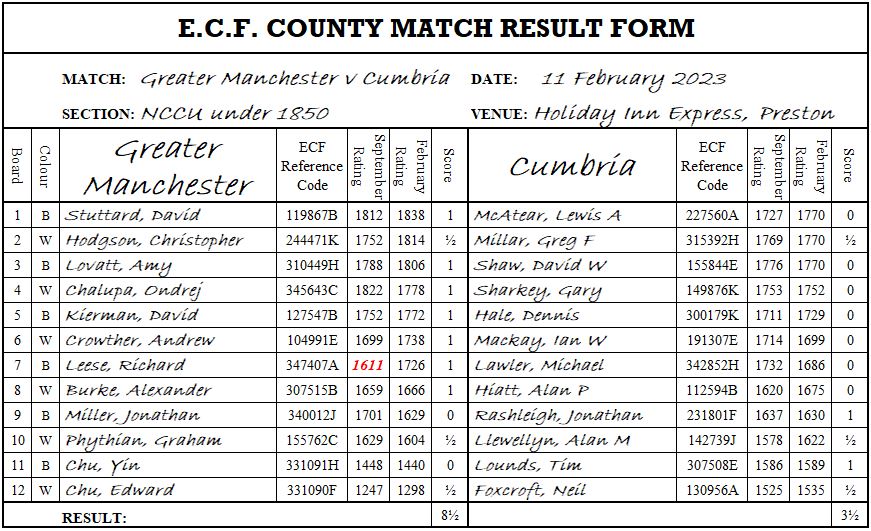 ---
NCCU Under 1850 - Yorkshire v Cumbria
Hello chaps,
I've attached the result sheet in case you're interested.
It's always a tough ask to expect a win against Yorkshire but, on
Sunday, they had an exceptionally strong team. Our average rating was
1694 to their 1788 so we, our lower boards in particular, were really up
against it and sadly, the result reflects this.
On the bright side, we can't do much worse against Greater Manchester on
the 11th 😁
Thanks to everyone for playing and thus making the match possible.
..............Andy.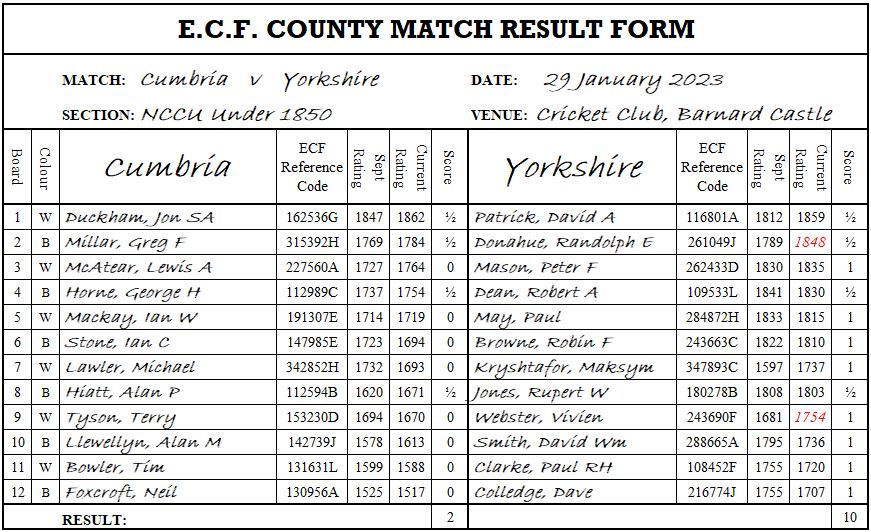 ---
NCCU Under 1850 - Cumbria v Merseyside


I'd like to thank everyone for supporting their county and I hope you are all available for the next match on Feb 11th away to greater Manchester.
The match score sheet is below
.....................Andy.
Link to the ECF Page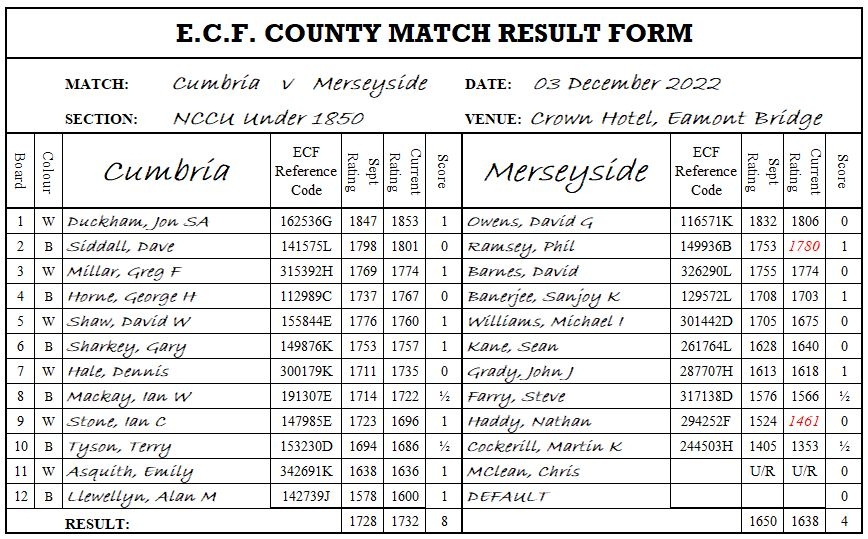 ---
NCCU Under 1650 - Cumbria v Lancashire


As I suspected, getting a team together for Easter Sunday was not going to be an easy task and consequently, we ended up with only nine players. Actually, we were down to eight when James Ovens couldn't find the venue after traveling all the way to Lancaster from Carlisle. Despite some very close games, there was only one draw when Neil Foxcroft managed to hold on despite being a pawn down. We did have two wins by Tim Bowler on board 2 and John Lydon on board 4 but with Lancashire's average rating at 1580 and ours at 1407, it's not surprising that they won the match. Many thanks to Barry Hymer of Lancaster chess club.


.....................Andy.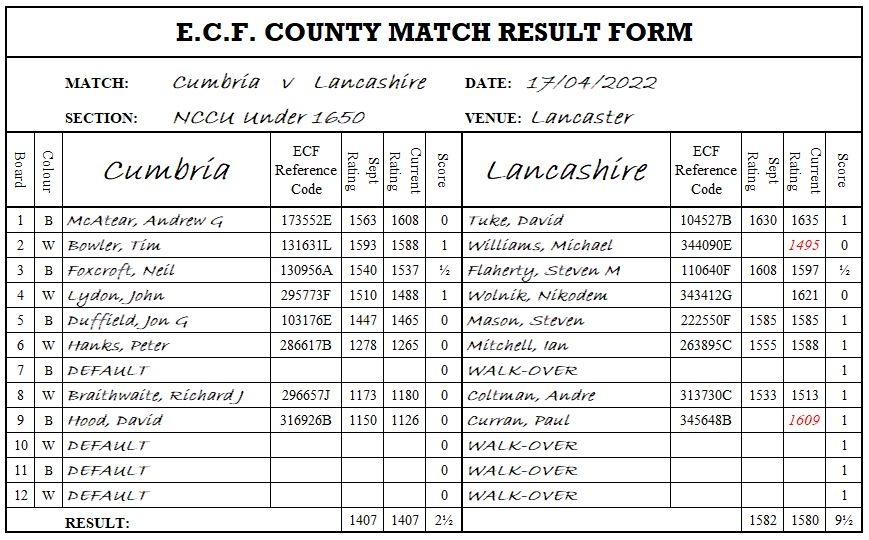 ---
NCCU Under 1650 - Yorkshire v Cumbria.


On a glorious Spring day, eleven Cumbrians (would have been 12 but Alan Llewellyn caught Covid) decided to travel to Barnard Castle to spend the afternoon in the Methodist Church Hall playing chess. With the absence of our board 1, everyone had to move up a board, making our task harder than we already knew it would be. Despite all the games being very close, many of the games ended in draws but Yorkshire managed to get the better of 4 of the games. Cumbria did however, manage one win on board 11 by James Ovens of Carlisle. The top 5 boards all drew and John Lydon of Carlisle, despite a 3 pawn deficit, fought to the bitter end to get a draw on board 8.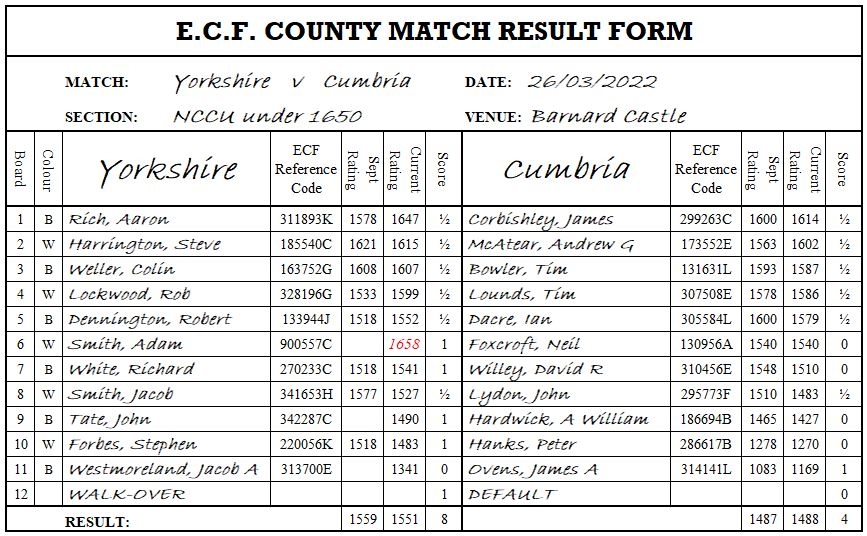 ---
Semi- Final 8th August.


After emerging top of Division 2b in the qualifiers, Cumbria were paired against the runner-up of Division 2a, Oxfordshire, for the semi-finals of the Open Challengers. Although out-graded on almost every board, it was Cumbria who took the lead, with early wins by Ian Mackay, Holden Davis and Jacob McAtear. Oxfordshire pulled a couple back but Cumbria managed to stay just ahead after Neil Jones drew and wins by Greg Millar and Tim Bowler. With two still in play, boards 9 and 10, it was dead even but John Grave and Ian Stone were up against strong opponents. Cumbria needed just one point to go through on board count but that was a tall ask. John, although 2 pawns down but with the opposite colour bishop, was able to draw his game. Still level, it all depended on the result of board 10. Ian, too, happened to be 2 pawns down but with a rook and light squared bishop each, it didn't look good. Ian managed to reduce the deficit to one pawn but despite a valiant effort, he couldn't prevent it from reaching the 8th rank on move 88. Fianl score: Cumbria 6 - 7 Oxfordshire.
So, Cumbria's heroic campaign has come to an end but not in faliure. We've achieved so much in this competition that I'm sure it has inspired other Cumbrians to join us in the next online county championships.
Thanks to all who took part......Andy (Match Captain).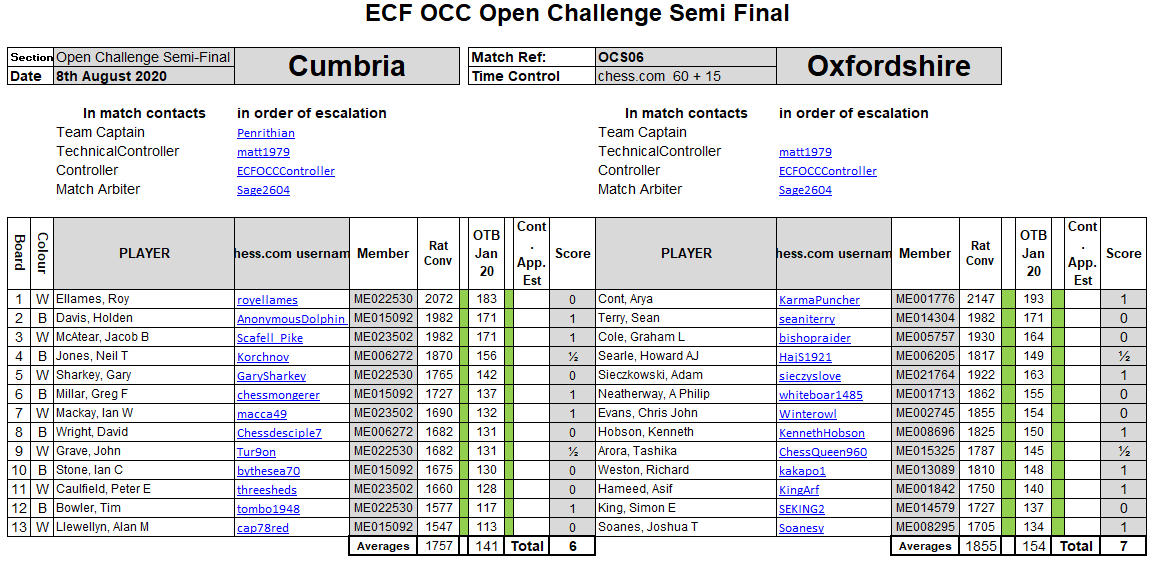 ---
!st round rematch 2nd August.

---
4th round 18th July.
After looking through Shropshire's player list on LMS, I knew that this was to be our toughest challenge yet. It was with this in mind that I asked their captain if we could play over 16 boards but despite his efforts, he could only muster 14. So, whilst we were out-graded on the top 9 boards, we had the advantage on the lower 5 boards and as you can see by the score sheet below, this made the difference. Our top boards managed to prevent Shropshire from running away with it while our lower boards scored 4 from 5 points to earn Cumbria a well-deserved draw, maintain our unbeaten record and keep Cumbria on top of the table with a great chance of qualifying for the finals.

Andy

---
3nd round 4th July.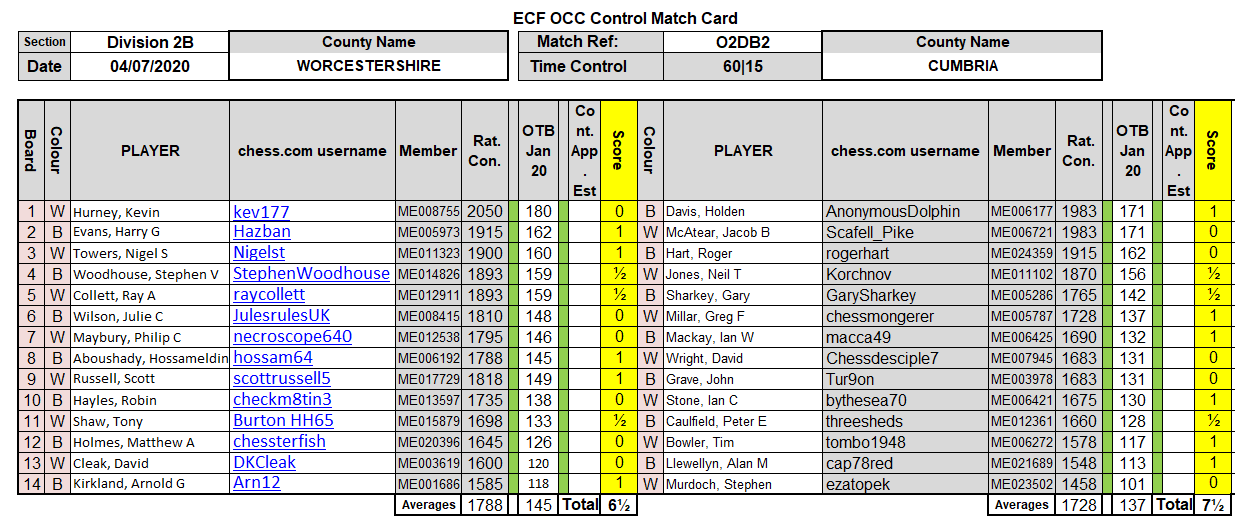 ---
2nd round 20th June.

Round 2 was played on Saturday June 20th without the server issues that forced round 1 to be aborted and rescheduled to Saturday August 1st.

We were at 'home' to Hampshire with all 12 boards populated. The match got under way without too many hiccups and before too long, the results started to come in. For a change, Cumbria's players were graded higher than their opponents on very board so, on paper, we should get a positive result and the early results didn't disappoint.

There were, however, a couple of upsets when Roger pushed too hard for a win in the endgame and resigned when faced with the loss of a piece. Greg was subjected to an onslaught against his king and his pieces were powerless to prevent it.

The match concluded 10 – 2 to Cumbria, which puts us on top of our group. Let's hope we can stay there!

---
1st round 13th June.
It was fitting that this match was played on the 13th as the server was rebooted after the start of the games and everybody was disconnected. The match was abandoned and is to be rescheduled.

This is ECF's letter to all the players following the match.

Below is the match card.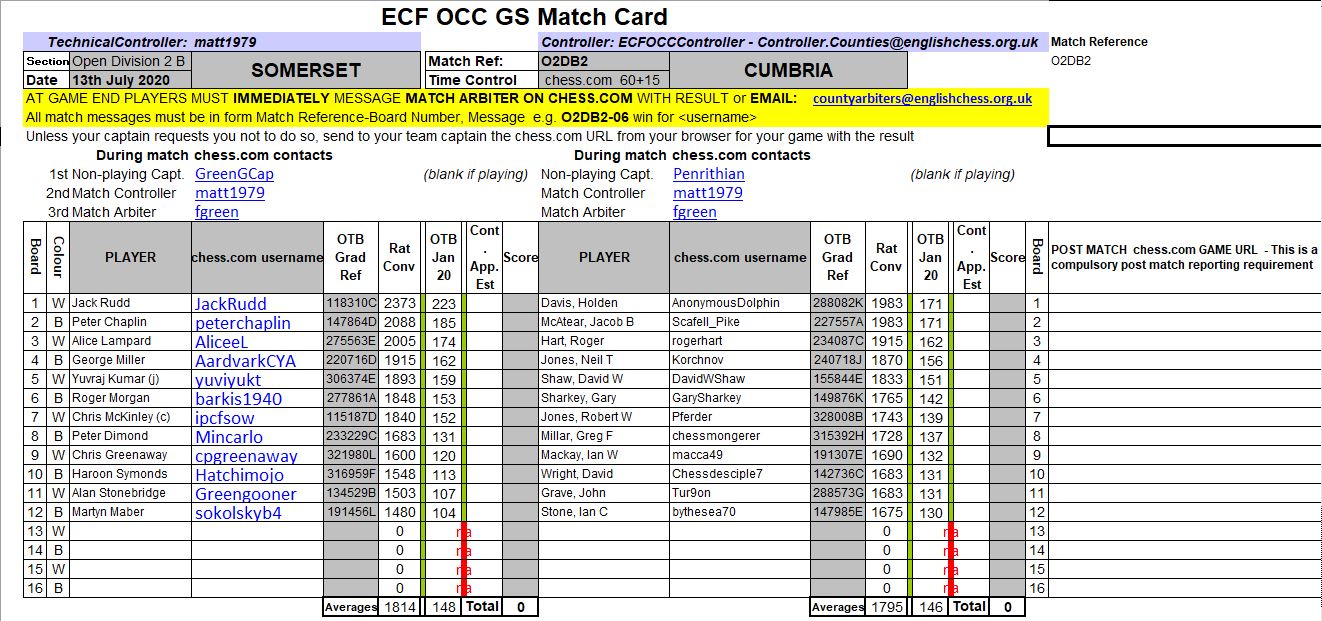 ---
Preliminary round 6th June.
Cumbria entered with 22 players and myself ( Andy McAtear

)

as captain. Knowing that there were bound to be a few teething problems, a Preliminary round was played with the aim of getting players and organisers used to the chess.com platform. So, on the 6th of June 2020, Cumbria played their first online match. We were placed in the Open which is split into two divisions, which in turn is split into two groups; A & B. We are in Division 2 Group and paired to play Berkshire 'away' in this round. Berkshire only managed to field 10 players so Fred and Tim were given games in the 'Pool match' (a match consisting of all the players unable to be paired in the other matches) and both won. Unfortunately, Terry missed out on a game as his opponent on board 10 failed to show up. Besides the 3 points gained by defaults, there were wins by Jacob McAtear, Roger Hart, Greg Millar, Ian Mackay, and John Grave, along with a draw by Holden Davis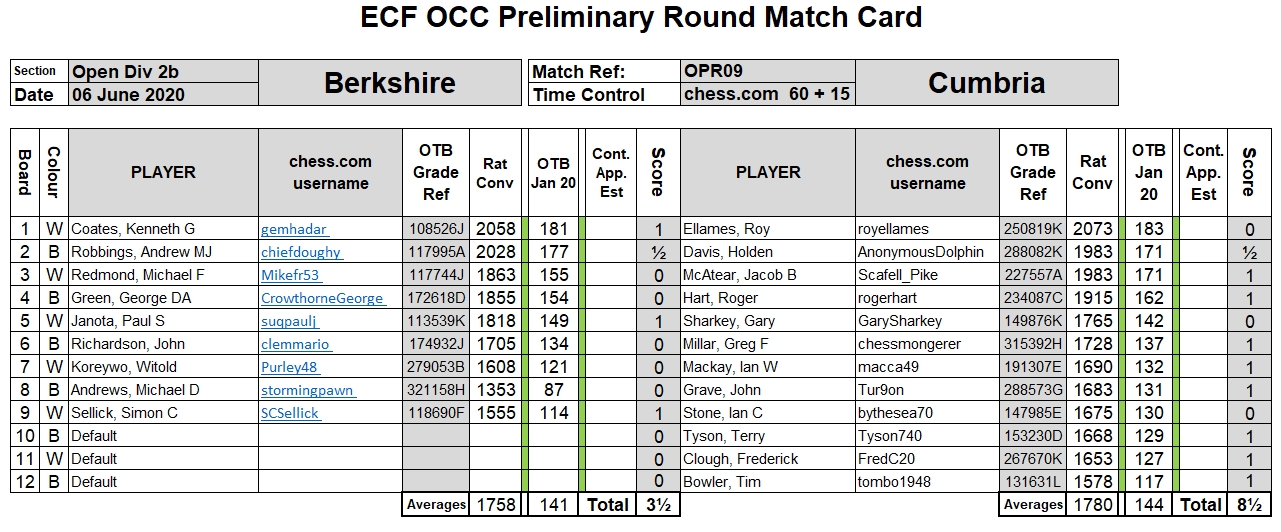 ---
County Results prior to Coronavirus.
Our 'home' match against Yorkshire was held at Barnard Castle Cricket Club which proved to be an excellent venue, so much so that it was agreed that we'd play Yorkshire there every year. The match itself wasn't so good for us. With four members of the team that beat Lancashire unavailable, our grade average was 10 points lower and the match score sheet reflects this. It wasn't all doom and gloom though, wins by Greg Millar (Maryport) against their captain, David Mills and Alan Llewellyn (Barrow) against John Foo. There were draws by Peter Caulfield (Ulverston), Mike Mason (Ulverston) and Steve Murdoch (Penrith).
....Andy McAtear.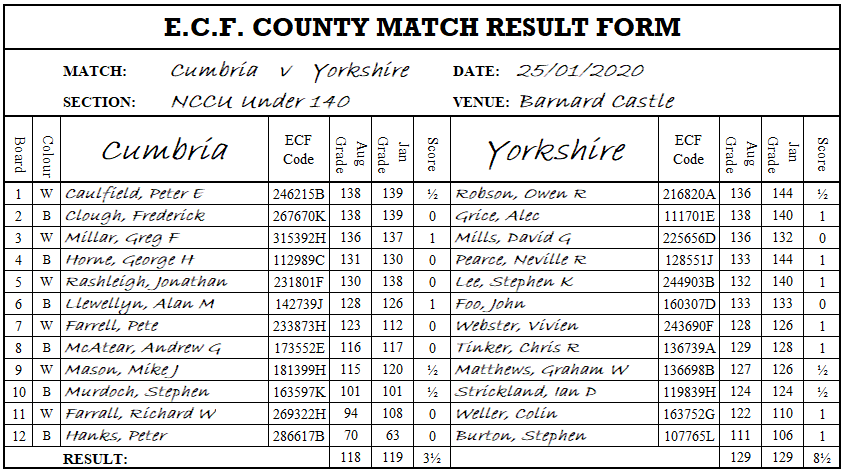 Play through Alan Llewellyn's game here.
---
As the majority of Cumbrian players, interested in playing county matches, are graded under 140, it was decided at the AGM, that we would enter the NCCU U140 section rather than the U160. The logic being that we would playing against opponents who were around the same grade, not 20 points higher than us. If our first match is anything to go by, I think we made the right decision, as we won!. It was a very close match, with many draws but wins by our boards 1 and 2, Peter Caulfield (Ulverston) and Fred Clough (Penrith), the oldest player in the match playing the youngest (See it on our
games page
), along with a win by Cumbria's newest member, Pete Farrell (Maryport) and a win by Neil Foxcroft (Ulverston), meant that we won by a clear two points.
....Andy McAtear.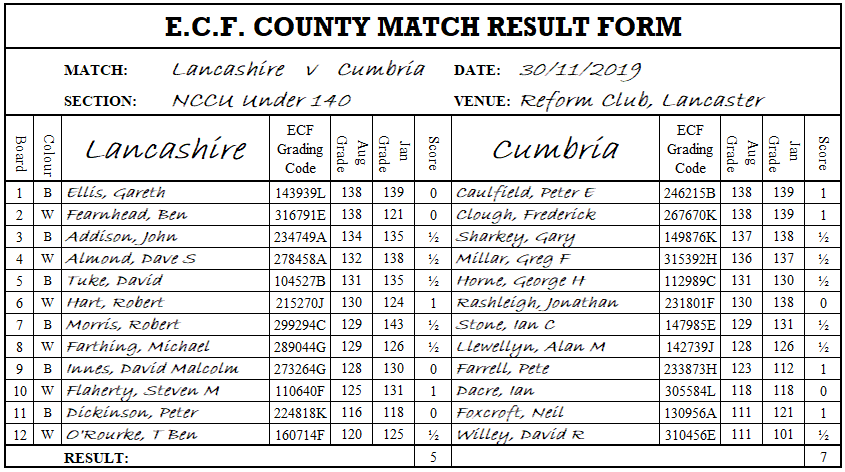 ---

Two weeks before the match day, Cumbria had 11 players without myself and I was waiting for confirmation from another couple. So, whatever happened, we would have a full squad, or so I thought. By the Thursday before the match, for a variety of reasons, we were down to 9 players without me and by Friday, 9 including me. It didn't look good so, knowing that Bill O'Rourke wouldn't have much time to contact his players, I e-mailed him with the news that we might have to default some boards and he asked me to let him know by the end of the day. So, my Friday afternoon was spent e-mailing and telephoning and with the help of Gary Sharkey and Peter Hanks, by 9 pm we had a full squad without me. All sorted, I thought but though everyone turned up at the Reform Club, Lancaster in good time, our board 2 hadn't even got to sit down before he recieved a call from home and had to leave. Fortunately, everyone else stayed and the match got under way, me included. We won the toss and played white on odd boards but our good fortune didn't hold out. Despite some very close games, Lancashire, graded on average 19 points per board higher than us, started to pull ahead and eventually won 9 - 3. Well played David Wright (Ulverston), our only winner! (Play through the game on our
games page
). The other two points came from draws by our board 1, Neil Jones (Maryport), Greg Millar (Maryport), George Horne (Barrow) and Andy McAtear (Penrith).
....Andy McAtear.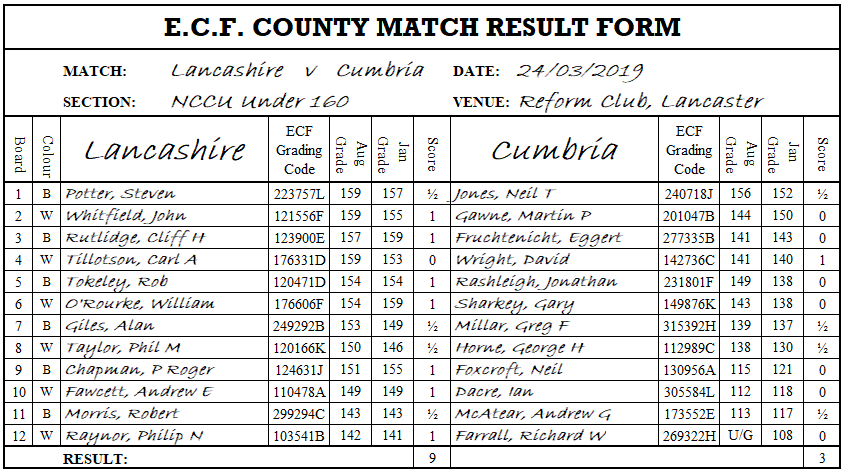 ---

Cumbria are always up against it when it comes to playing Lancashire but after two players had to withdraw at short notice, they were replaced by much lower graded players. This made our task harder but not impossible. A couple of early wins by Martin Gawne (Ulverston) and Clive Hutchby (Keswick), inspired our squad to push harder. Kevin Southernwood, Lewis McAtear (both Penrith), Gary Boswell (Ulverston), George Horne (Barrow) and Mark Mallard (SASRA), all managed to hold their opponents to a draw. So, had the match been over 7 boards, we would have won already but, Eggert Fruchtenicht (Penrith) picked today to be the rare occasion when he loses a game (though I'm certain his opponent had something to do with it). Jon Duffield (Barrow) lost his game to a fierce attack by a demure young lady but Gerry Rowan (Penrith) kept hope alive by drawing with an opponent graded more than 50 points higher and probably 50 years younger! Peter Caulfield (Ulverston) eventually succumbed to, Lancashire Captain, Bill O'Rourke. The score now 6 - 5 to Lancashire with only one board left in play...mine (Andy McAtear, Penrith). I had offered my opponent a draw much earlier in the game but he declined. He now offered me a draw but, as I knew the current scoreline and I had a decent plan and I was the Captain, I declined. I did miss a forced mate (or two) but my plan turned out to be a good one and I won!! (You can see this game on the
games page
). So we drew the match despite being graded, on average, 12 points lower on every board.
....Andy McAtear.