Page last updated Monday 14th August 2023

---
Archives
A list of champions can be seen on the
Junior Archive Page
, the under 18 Champions list going back to 1929 !
---
14th August 2023
KT Tuition's Chess Summer School




Do you know a little and want to learn more
about Chess?

Learn how to plan your moves, your time to
Achieve your goals. Chess Training and Practice
supports the Development of Higher-Order
thinking Skills. Come to play Chess at K T Tuition.

Our Summer School dates are: Monday the 21st
of August to Friday the 25th of August.

Duration 2 Hours, from 10.30am to 12.30pm.
Cost Just £60.00, that is just £6.00 per hour.

If you would like more Information call us
anytime on : 07712 695 414.

OR Email: mralanwatson@outlook.com
telephone anytime 07712 695 414.
---
14th July 2023
Cumbria Junior Chess Tournament 2023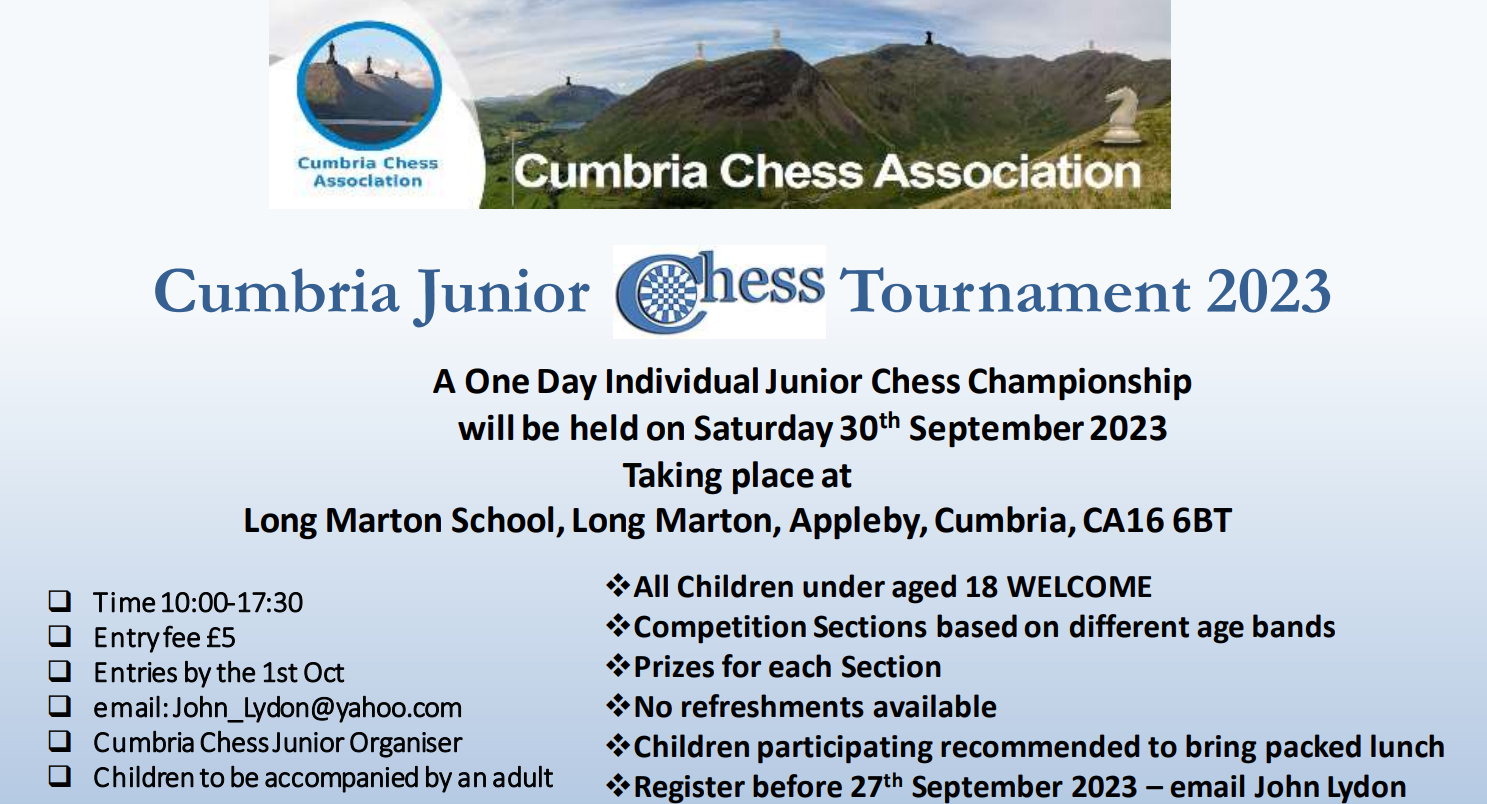 A one day Junior Chess Tournament will be held on Saturday 30th September at Long Marton School, Appleby.
Full details can be seen
here.
---
27th
March 2023


Long Marton School Chess Tournament 2023
A report from .
John Lydon -



Long Marton Community School has been hosting an annual School's Chess Tournament for many years now.

I attended the 2023 Tournament on behalf of Cumbria Chess Association to support the event and help with the running of it.

The morning was a Chess Workshop to help the children improve their game.




The Tournament itself took place in the afternoon.

80 children from 12 Schools participated.

The geographic spread of the schools was huge with teams from Shap, Hayton, Penruddok, Kirkby Stephen, Patterdale, Warcop, Bolton, Brough, Temple Sowerby, Morland, Long Marton and Kirkby Thore all competing.

The individual winner was from Kirkby Thore and the runner up was from Temple Sowerby.




The winning team was from Kirkby Stephen with the runners up from Patterdale. Hayton and Warcop finished joint 3rd.

The pics show:

The tournament taking place

John Davis (Long Marton Teacher and organizer of this event) presenting one of the certificates.

The winning Kirkby Stephen team with their teacher.
---
10th October
2022
Junior Tournament
A report from .
John Lydon -
Children from 6 to 17 in age, and from Carlisle to Ulverston in geography participated.
The tournament was in 2 sections, Under 18 and Under 13.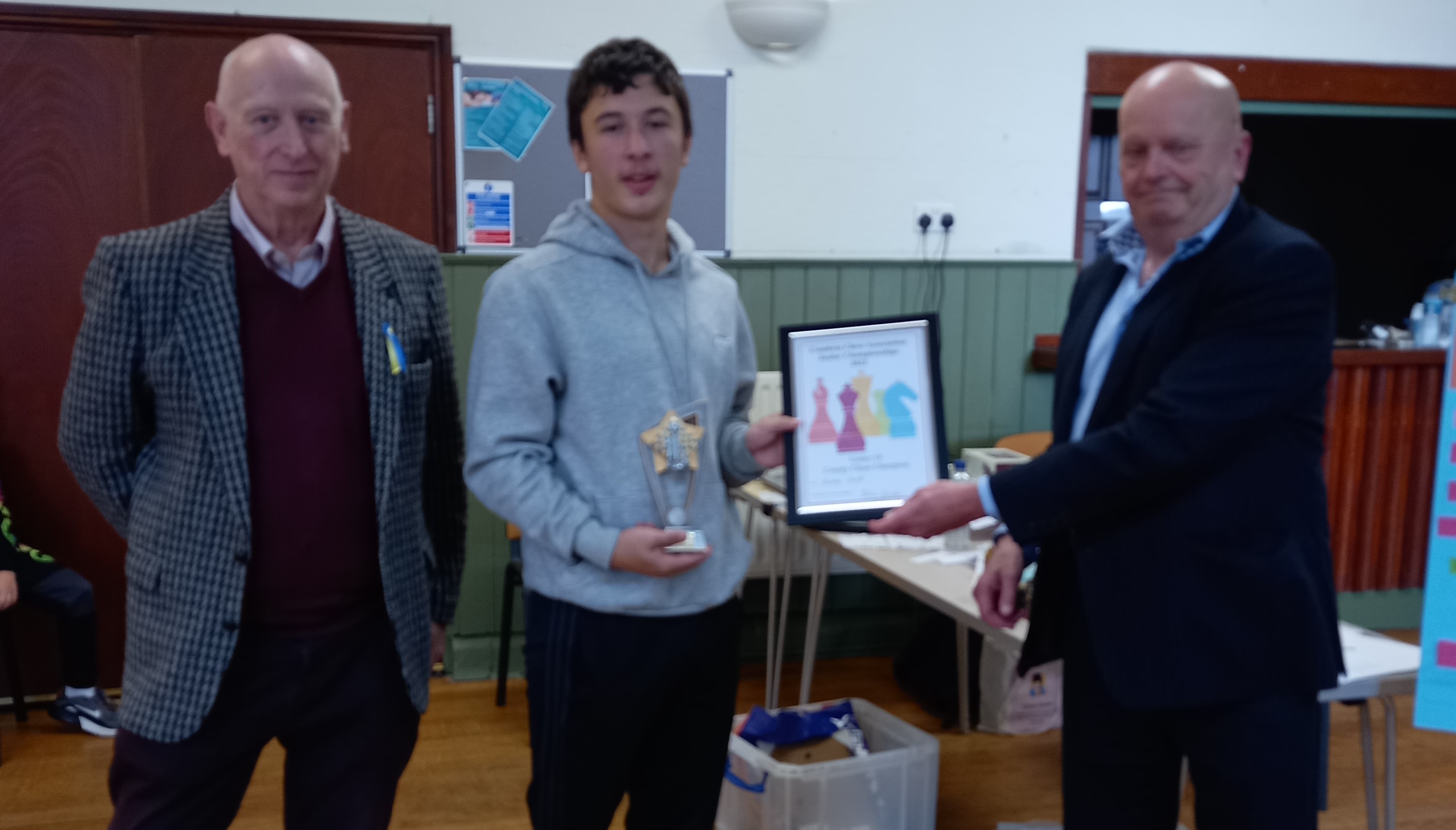 Andrei Carp became the Cumbria Junior Chess Champion, winning the Under 18 section with a perfect 7/7 score. Cooper Richardson was the Runner Up with 6/7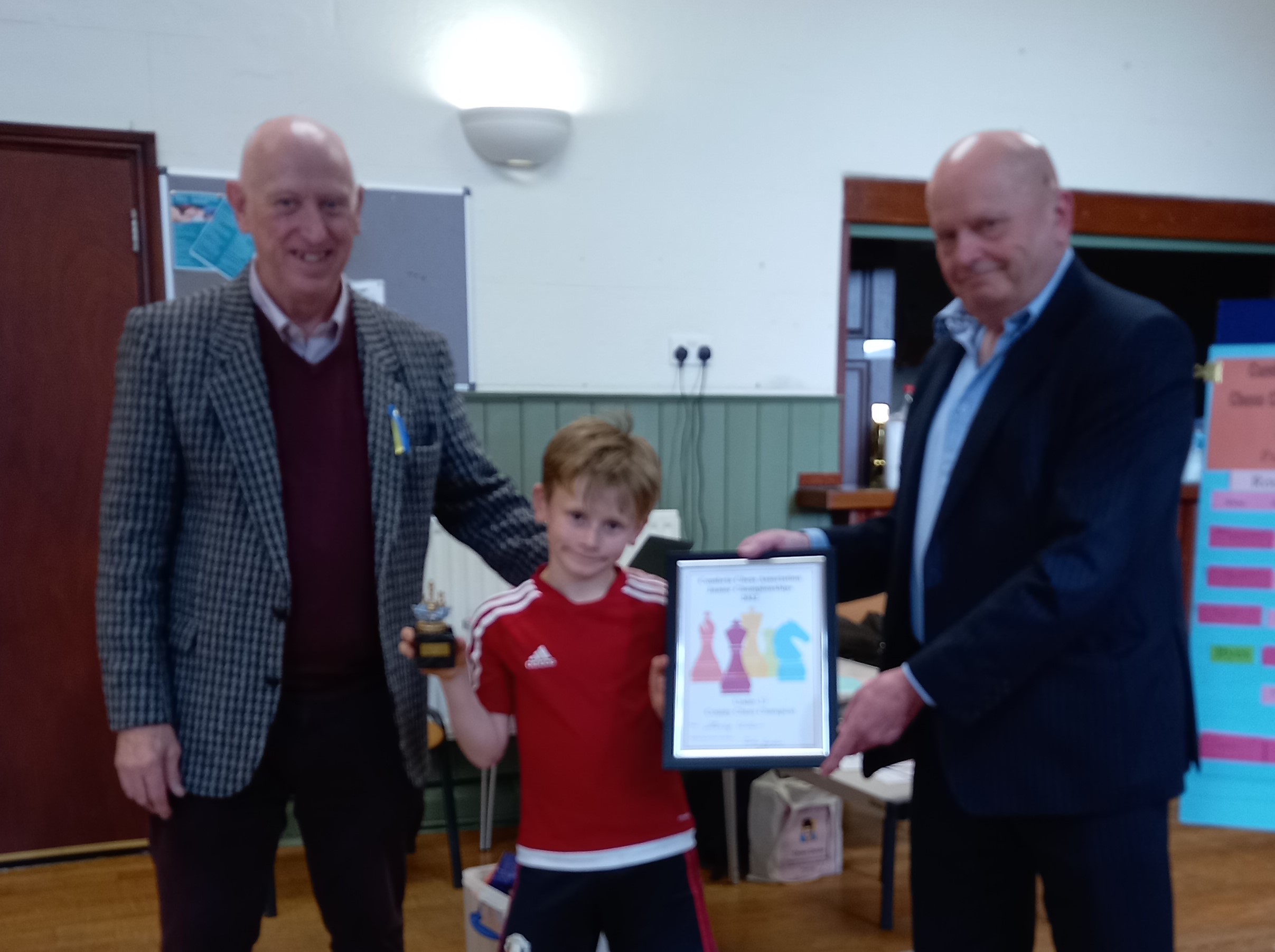 Stanley Wilson, at the age of 7 became the Under 13 Cumbria chess Champion. Stanley also achieved a perfect 7/7 score. Aaron Richardson was the runner up with 6/7
All players received certificates of attendance, with other certificates being awarded for highest finishers from different ages.
Congratulations to Andrei and Stanley.
A full report can be read here.
Many thanks
John
---
1st
September 2022

Junior Tournament
8th October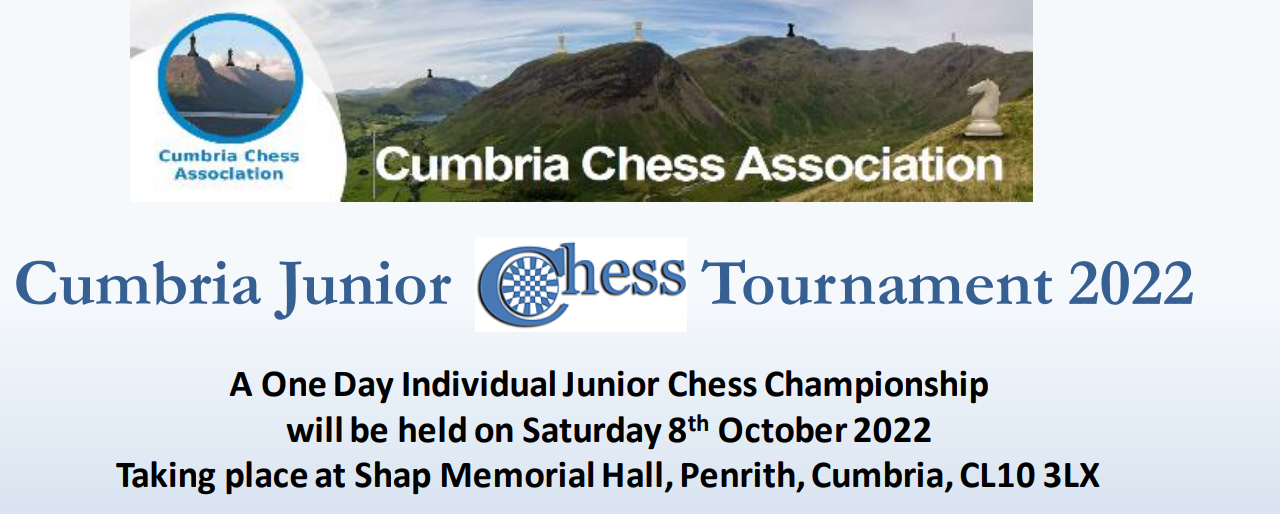 Details and the Entry Form can be seen
here
.
---
27th
June 2022

School Chess Tournament


Note from John Lydon, our Junior Organiser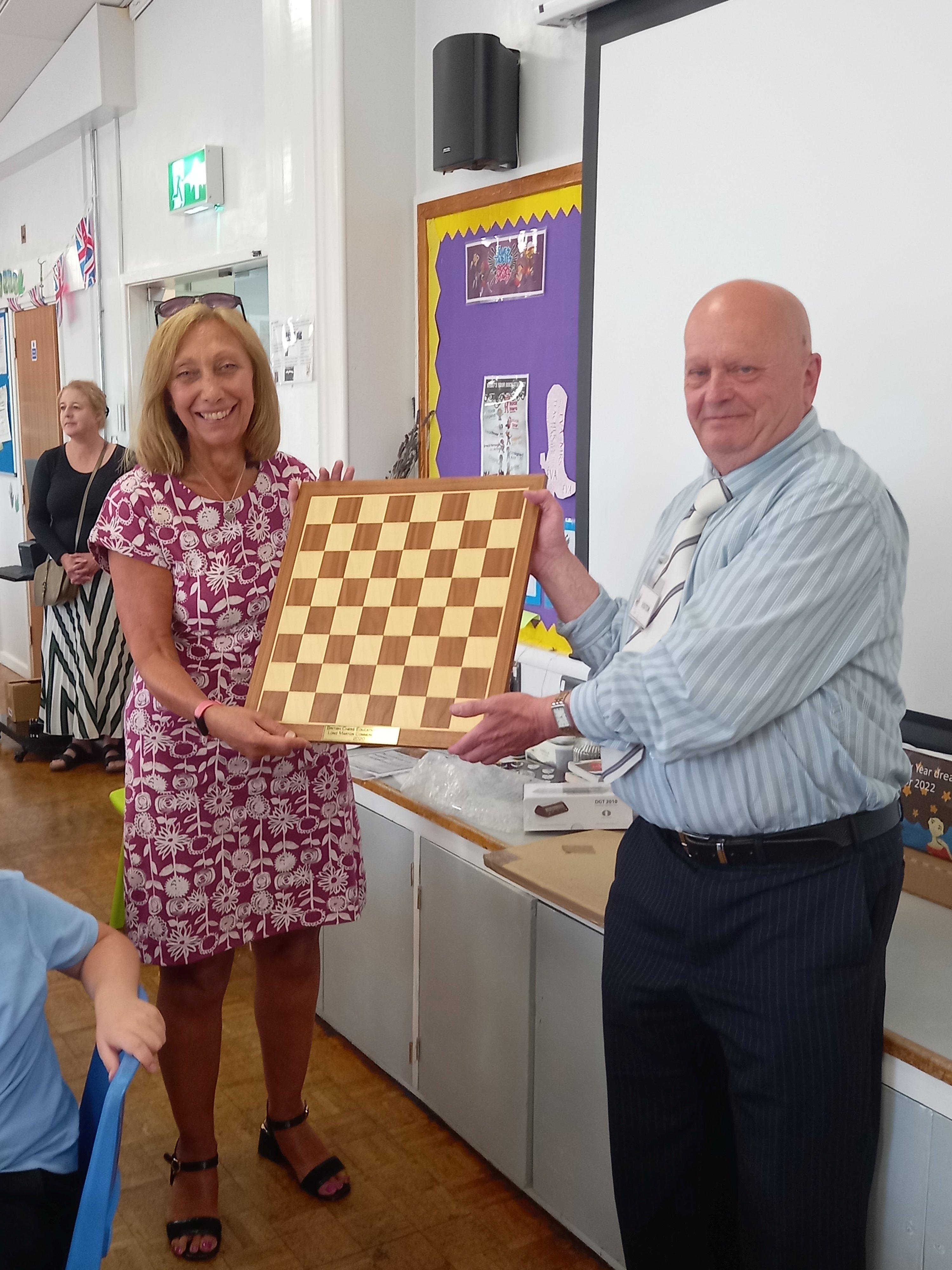 Hello,
Just to let you know that the tournament which Long Marton Community School hosts every year (Pandemics permitting) has returned again.
I attended on Friday the 24th to support the event.
I loaned them some sets from Cumbria Chess, and arranged for some more from Carlisle Chess Club.
Not sure if both of you know this, but 2 years ago the school gained an award (Engraved Board, Chess Set and Chess Clock) from the British Chess Educational Trust.
Due to the pandemic the award has been in my house for that 2 years, but I'm delighted to say that I presented the thoroughly deserved award to the Head Teacher (Rachel Smith) after the tournament (See attached pic).
On a personal note, I'm delighted to say that Hayton Primary School (where I teach kids to play chess) entered a team for the 1st time. They won the team event, and came 1st and 2nd in the individual placements.
I hope to be forwarding some pics of the children, with a request put an article on the web site.
As they are children, that won't happen unless I get parental permission.
Hopefully there will be a follow up.
Many thanks
John
---
10th
May 2022
North East Final of National Youth Chess Championships

Dear North East chess organisers,

I would like to invite juniors from your area, school and chess club to take part in the North East Final of the 1st National Youth Chess Championships.
It is being held on Saturday 28 May, 2022, from 10:00am to 5:00pm at St Mary's Catholic School, Benton Park Road, Newcastle upon Tyne NE7 7PE
I am organising the North East Regional Finals on behalf of the English Junior Coaches and Organisers Association (EJCOA).
Competitors will be organised into several age categories (Under-8, Under-10, Under-12, Under-14, Under-16, Under-18 and Under-20, with ages as of 01/01/2022) and will play five rounds of chess (each player will have 25 minutes to make all their moves, plus 10 seconds per move).
The winning boy and girl in each category will be eligible to compete in the National Finals at Nottingham High School, July 8-10. There will also be trophies and other prizes, to be announced on the day, depending on the number of entries.
To enter the North East Regional Final, go here:
https://ejcoa.co.uk/online-payments/nyc-regional-final

Further details can also be found here:

https://www.englishchess.org.uk/event-calendar/#event=70309544;instance=20220528100000

This is not a school-run event and so St Mary's Catholic School takes no responsibility for admissions or to attend/supervise on the day. The students and their parents are responsible for these things.

Please don't hesitate to get back to me if you have any questions.

Best wishes,
Tim Wall
EJCOA Regional Organiser
Tel: 0750 372 2366
---
2nd
March 2022
Ilkley Junior RapidPlay

Saturday 21st May 2022 Ilkley Grammar School, LS29 8TH
This is a one day, 6 round, Junior RapidPlay tournament with 4 sections. Entry is £10 per player (for ECF Members) and all matches will be ECF Rated.

Full details of the event and registration can be found here


---
4th Feb 2020
Long Marton Primary School
Note from John Lydon -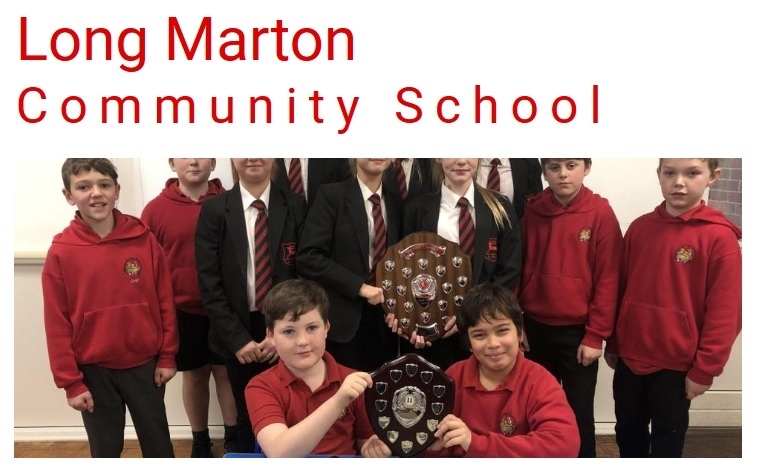 As the Cumbria Chess Junior Organizer, I was pleased to attend and support a School Chess Event at Long Marton Primary School on Friday 21st January.

John Davis (a teacher at Long Marton Primary) has been running a chess event for 10 years now.
The event consists of a morning workshop to give the children some coaching followed by 2 tournaments in the afternoon.
Nine Primary Schools and three Secondary Schools (76 players) took part.
The Rotary Club of Appleby Shield was won by Appleby Grammar School.
The Ullswater Shield was won by Long Marton Primary School.
Individual winners were:
Gold: Nathan Birkett (Long Marton Primary)
Silver: Stefan Carp (Hunter Hall)
Bronze: Barnaby Parker (Calthwaite)

I loaned the Cumbria Junior Chess sets, and a few more from Carlisle Chess Club (Thank you to Bill Hardwick for them) and helped with the running of the event. Kevin Southernwood was also there helping.
I look forward to supporting John next year, and hopefully helping to boost the number of players and schools competing as well.
John Lydon
---
12th June 2017
2017 Cumbria Junior Chess Championship
The 2017 Cumbria Junior Chess Championship is to be held on Saturday 1st July 10:30 am to 4 pm at the Queen Elizabeth Grammar, Ullswater Road, Penrith. Full details and the entry form can be seen
here
.
---
17th June 2016
2016 Cumbria Junior Chess Championship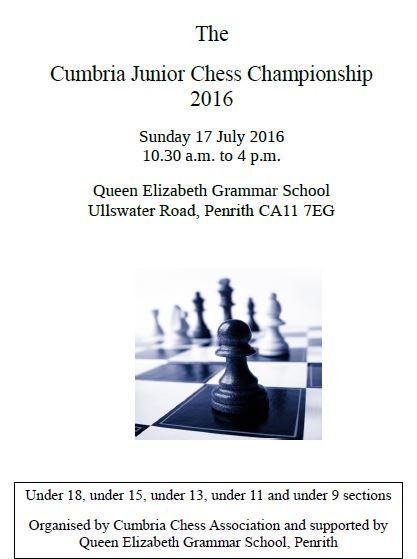 The Cumbria Junior Chess Championship for 2016 will be held on Sunday 17th July from 10:30 a.m.to 4 p.m. at Queen Elizabeth Grammar School, Ullswater Road, Carlisle, CA1 7EG
For further details and/or to download the Entry Form see
here
.
---
29th March 2016
Pennine Cup 2016
The following is a copy of an email sent to Paul Bielby of Nothumberland by Kevin Southernwood ( Junior Organiser ).

Thanks for organising the Pennine Cup 2016. I think people quickly realised that we were, by and large, rather heavily outrated/overmatched. However rather than disappointment quite a few found it motivational - 'I want to play as well as them!' Also there was some real enthusiasm from the team and support from parents present to have more such events. So I think the positives far outweighed the negatives.

If you are looking for someone to take on trying to organise the event for 2017 then I'd be willing to give it a go.

Cheers
Kevin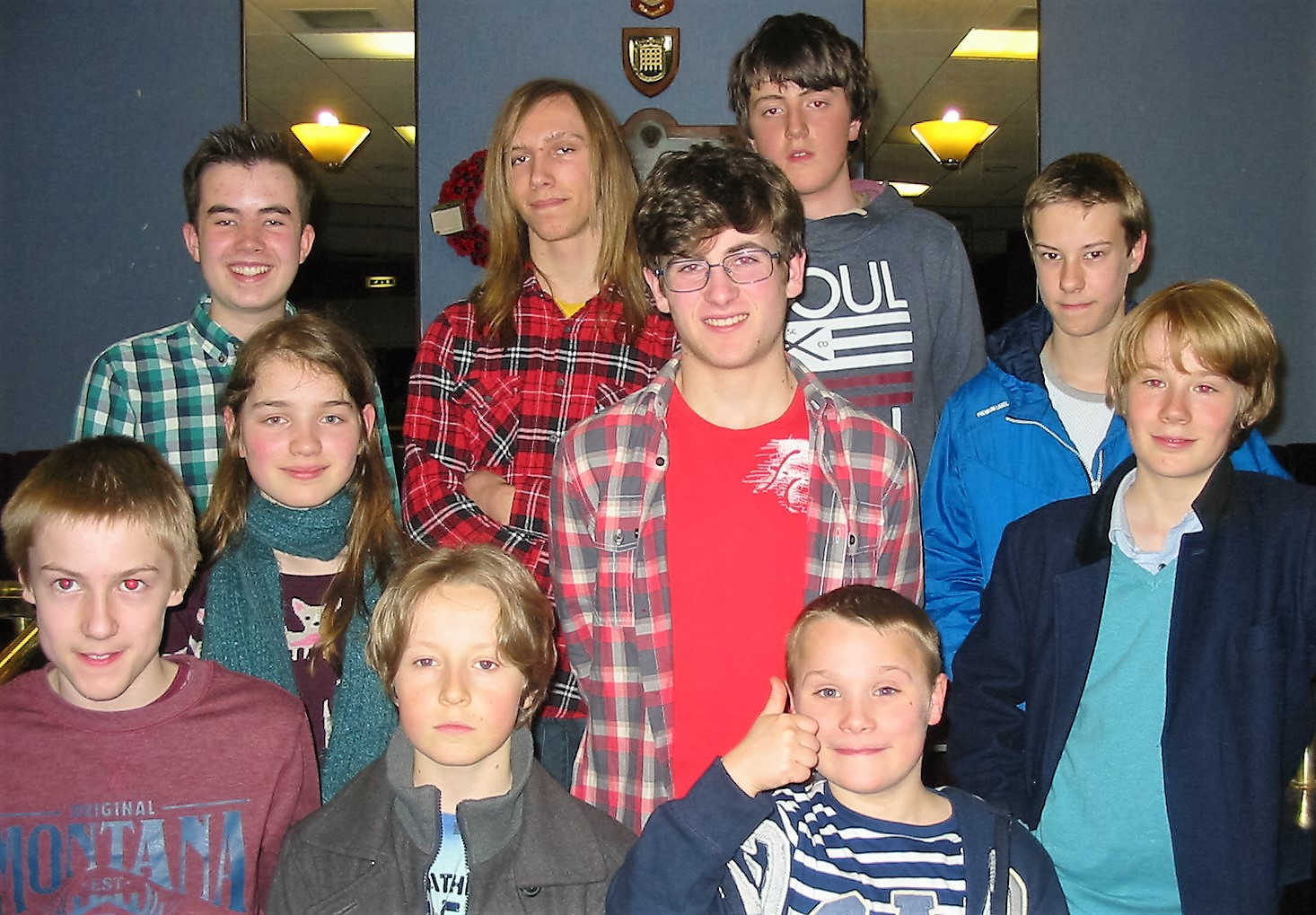 A report on the recent Pennine Cup between Nothumberland and Cumbria under-16s by Paul Bielby can be found
here
.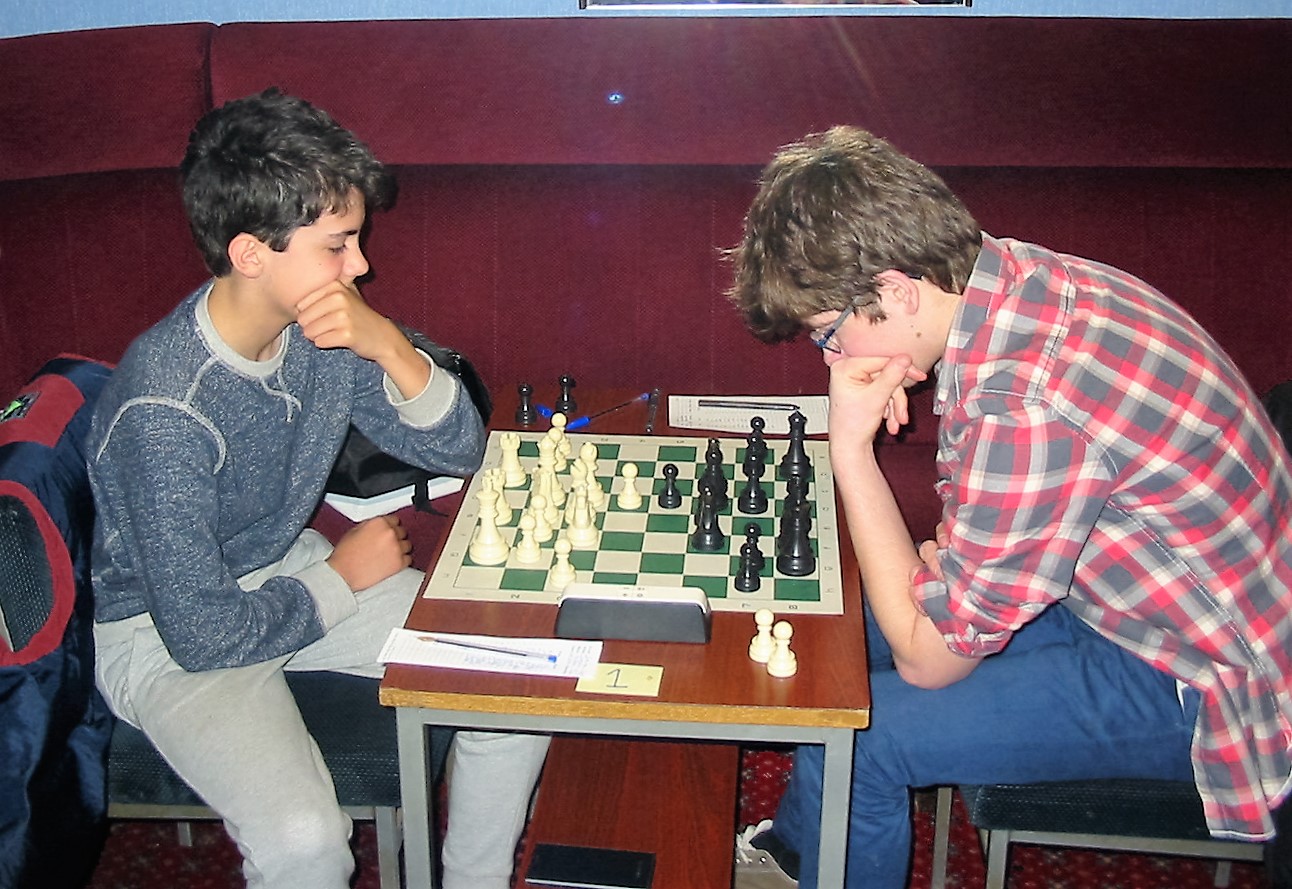 ---
Cumbria Junior Chess Championship – 2015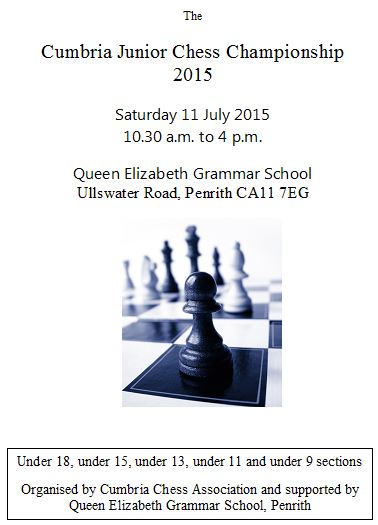 The Cumbria Junior Chess Championship for 2015 will be held on Saturday 11th July from 10:30 a.m.to 4 p.m. at Queen Elizabeth Grammar School, Ullswater Road, Penrith, CA11 7EG
A poster can be downloaded from
here
.
For further details and/or to download the Entry Form see
here
.
---
Cumbria Junior Chess Championship – 2014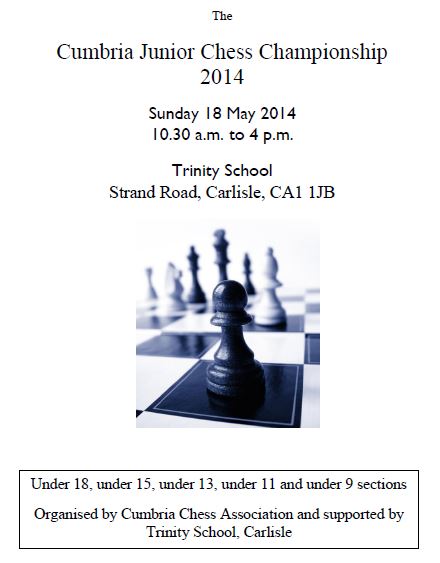 The Cumbria Junior Chess Championship for 2014 will be held on Sunday 18th May from 10:30 a.m.to 4 p.m. at Trinity School, Strand Road, Carlisle, CA1 1JB
For further details and/or to download the Entry Form see
here
.
---

Further information :
chessjuniogibraltar@gmail.com
Office website:
http://www.gibraltarchesscongress.com/junior/international2013.htm
---
Cumbria Chess Association – Junior Organisers Report

The 2012-2013 Season
2012-2013 has been a fairly successful year in terms of maintaining and building on our Junior Chess Activity.
At primary level there are established school leagues in the Penrith and Carlisle areas with roughly 150 children participating from between 15 and 20 schools. There are also a number of established one-off events that act as feeders for the County Junior Championships e.g. the Carlisle U9s and U11s qualifiers, the Plumpton qualifer, and the Appleby Shield Championship.
This year we've managed to extend our 'range' a bit with a new primary school event in Keswick. We've started running some one-day chess workshops for children during school holidays (one held and two more planned for the Summer).
At secondary level we've had anincrease in interest in the inter-school league with a couple of new schools taking part. On the down side however we weren't able to field a team in the Pennine Cup competition this season and so lost the title undefended.
The County Junior Championships were held on May 19th at Trinity School Carlisle. Numbers attending were roughly comparable with previous years, though for the first time in quite a while we actually had sufficient entries at U13, U15 and U18 levels to hold separate events in each category.
Last but not least Cumbria Junior Chess is in a fairly healthy financial state. We aim to make all our established activity financially self-sustaining, whilst any surplus helps to fund the costs of our 'development' activity. Including some outstanding income not yet received and one unpaid debt at the time of writing this report we should close the season with a positive balance of about £700 in our account
Ideas for the Future
We will continue to try and develop the geographic scope of our activity/events across the county.
We are interested in developing a Cumbria Junior Membership Scheme. In particular we want to look at using the Junior Section of the Cumbria Chess Web Site as a hub for Junior Chess in the county

In response to an ECF initiative we will look at establishing a new competition for Secondary Schools in the County
Thanks to…
Quite a number of people… Andrew Millar, John Kelly, John Davies, Allan Davies, Bill Hardwick , Daniel O'Dowd and Richard Davis. And a number of schools whose help with venues has been invaluable: Trinity School Carlisle, Richard Rose Academy, Ullswater Community College, Hunter Hall School, Nelson Tomlinson, St. Herberts Keswick, Plumpton School and Long Marton Community School.
Kevin Southernwood
---