Page last updated Wednesday 02 March 2022

---
2015 Sasra v Penrith C
Saturday 14th November 2015
Andy McAtear grade 124 beats Phil Almond grade 177. Interesting to see the game because of the grade difference. Well played Andy, and commiserations Phil !

Notes supplied by Andy McAtear
Note&nbsp-&nbspClick on square E7 to flip the board
---
2014 Potter/Wason best game prize
Note&nbsp-&nbsp Following paragraph copied from the
English Federation for Correspondence Chess
Website.
Congratulations to Wes Bell, who has won the 2014 Potter/Wason best game prize for his victory over Dominique Conterno in the Gordon Evans Memorial British Championship 2014-16. Many thanks to Ian Brooks for once again judging the competition. There were six entries this year, all of which were considered to be worthy candidates and led to Ian stating this was 'the hardest best game competition I have judged'. Ian's summary of the winning game was that 'it has a nice flow to it and is well played by both sides. At first glance it seems that black may have been escaping after the exchange sac gaining the Bishop pair and Queenside attack, but white played accurately, forcing off the queens and trading pieces at the right time. It was fitting that the end came with white finally returning the material to set up a forced win.'

Notes supplied by Wes Bell
Note&nbsp-&nbspClick on square E7 to flip the board
---
South Lakes Congress - June 15th 2015
Note&nbsp-&nbsp Following notes supplied by Ian Mackay
Attached is the end position of my game 5 yesterday.

It's 4.30pm & I am playing the number one in our section , Arthur Hibbitt, 150. I am on 3 out of 4 and about to win substantial prize money.

It's my move; he's been mopping pawns up, but I surprised him by not defending them but penetrating his 7th rank! My next move should win easily...but I impetuously made the wrong move, & resigned immediately - a classic snatching defeat from the jaws of victory.

What move did I make? What should I have done? Answers on a postcard please!

Note&nbsp-&nbspAnswers at the foot of the board. Click the '1... ?' in the game score for the full analysis.
Note&nbsp-&nbspClick on square E7 to flip the board

Click here for answer to Question 1 - What move did Ian Make ?
Click here for answer to Question 2 - What move should have been played ?
---
Northern Counties Yorkshire v Cumbria Under 160. Played 29 March 2015 in Poole-in-Wharfedale.
Never say die !


Note&nbsp-&nbspClick on square E7 to flip the board
The position below was set up on the Shredder Endgame database page.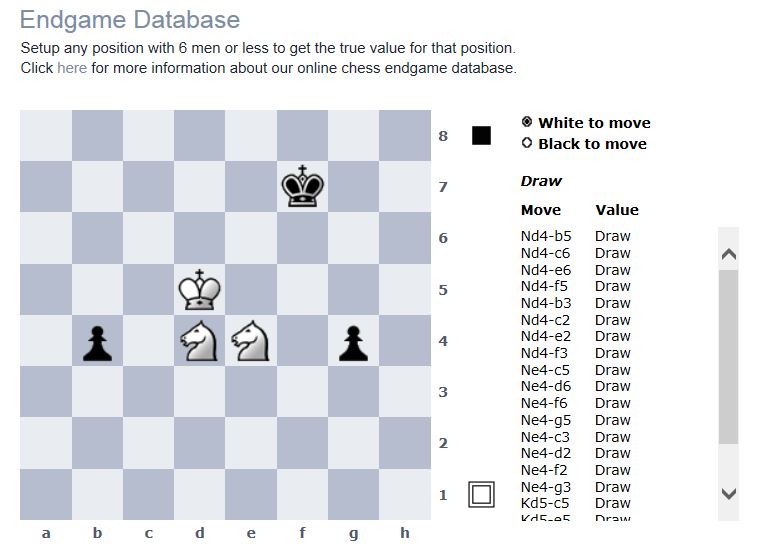 ---
Cumbria Open - March 3rd 2015
Note&nbsp-&nbspNotes & Game supplied by Jason

Round 1- Bye (0.5) because I couldn't play on the Friday.

Round 2- Black vs Holden Davis (1.5) win from which Holden played a Smith Morra gambit (declined) and had a controlling position but blundered a bishop for rook exchange and his position fell apart as shortly afterwards I managed to win 2 strong knights for a rook.

Round 3- White vs James Moreby (2) Draw against James in which he had a great chance to get the win on move 14 against me by winning either a bishop or rook. Later in the match I had mating threats myself and accepted a draw from what was a won position for me but I didn't realise at the time.

Round 4- White vs Stephen Barnes (2.5) It was a normal looking game until I decided upon a kingside attack by sacking the g4 pawn because I felt black was underdeveloped on the queenside to defend it, and latter 2 other pawns (not part of the plan). Luckily I got 2 of the pawns back and Stephen was low on the clock. It ended with a queen and 3 pawns for me against Stephens queen and 4 pawns and I had perpetual threats.

Round 5- Black vs Dave Phillips (3.5).

Note&nbsp-&nbspClick on square E7 to flip the board
In the end of the other match James beat Roy so James and I shared first place. As James is from outside the county I got the trophy.


---
Calvax ( Majorca ) International Tournament October 10th - 18th Oct 2014
Note&nbsp-&nbspClick on square E7 to flip the board
Round One in Open tournaments often throws Goliath against little David, and here Belgian Guy Dugailliez (FIDE 1958) (ECF 172 versus 102) has a 500 point advantage over Carlisle club secretary Bill Hardwick.
But complacency and the expectation of an easy victory can often lead to disaster; and here, Guy loses to Bill in ten sensational moves.
---
Tactics practice - drag a piece for your answer